Apple Watch
Apple Watch is a line of smartwatches produced by Apple Inc. It incorporates fitness tracking and health-oriented capabilities. The wireless telecommunication integrates with iOS and other Apple products and services. New released Apple Watch Series 7 price in Pakistan varies upon dollar exchange rate in Pakistan. iPhone watch price starts in Pakistan from Rs.35000 (Series 3) and line up to Rs.225,000 (Watch Series 7 Stainless Steel).
Apple Watch 7
Watch Series 7 launched in Pakistan in the mid of October 2021 in four colors with inclusive of new green color. Apple Watch Series 7 Price in Pakistan started from Rs.99,000 of 41mm size in October 2021.
Apple i Mid night, Starlight, Green, and Blue. These join the (PRODUCT)RED shade carried over from the Series 6. The stainless steel Apple Watch models are available in Silver, Gold, and Graphite, which is a deep gray shade. The titanium models are available in a natural color (a gray silver) and Space Black.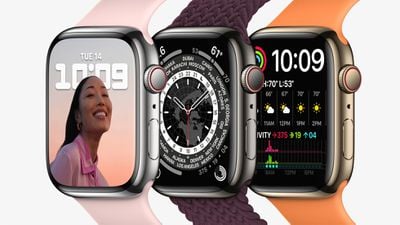 The aluminum Apple Watch models are made from 100 percent recycled 7000 series aluminum, are lightweight, inexpensive, and designed for an active lifestyle, while the stainless steel models are heavier, more expensive, and designed for everyday wear rather than focused on activity.
Apple Watch Series 7
Apple's latest Apple Watch with larger displays and faster charging. Pre orders started October 8, launches October 15.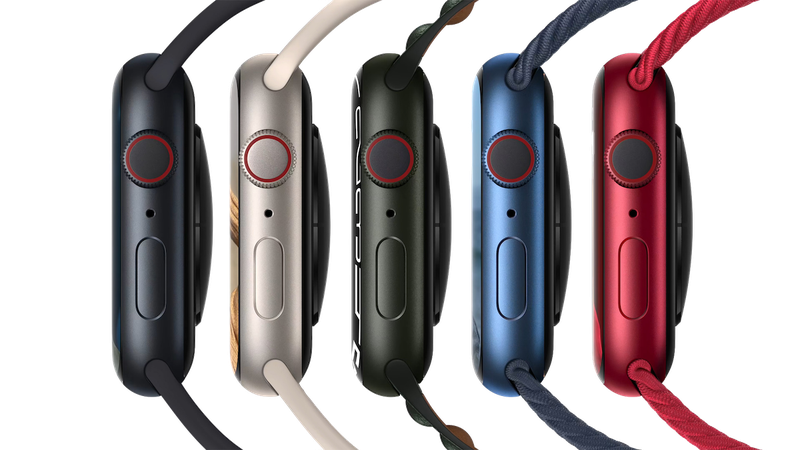 Should You Buy an Apple Watch Series 7?
The Apple Watch Series 7 is Apple's latest smartwatch, featuring a larger always-on Retina display, a more rounded design with a larger casing, improved durability, and faster charging, starting at a price of Rs.105,000.
Announced in September 2021, the Apple Watch Series 7 is the newest Apple Watch in Apple's lineup and it is at the start of its product cycle. Apple tends to release new Apple Watch models every September, and there is no reason to suggest that a new Apple Watch Series 8 will not launch next year.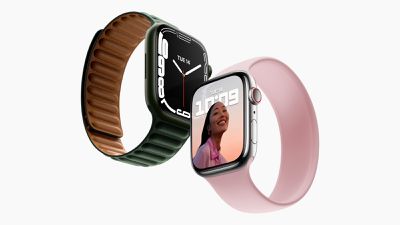 Features:
While the Apple Watch Series 7 is Apple's most full-featured, high-end smartwatch for those who want features like blood oxygen monitoring, ECG, an always-on display, and more premium finishes, users who are looking for a more affordable option should consider the Apple Watch SE. Starting at $279, the Apple Watch SE offers many key Apple Watch features, such as an optical heart rate sensor and fall detection, but at a lower price that balances functionality and affordability.
On the other hand, if price is your main concern and you do not need advanced health functions, the Apple Watch Series 3 may be more appropriate than the $399 Apple Watch Series 7 as it offers many of the Apple Watch's core features for just $199. There are some tradeoffs with the Apple Watch Series 3 because it is a much older model, such as a smaller display, an older chipset, and the lack of a compass, fall detection, ECG, and blood oxygen monitoring.
The Apple Watch Series 7 is available in new 41 and 45mm size options that are 1mm larger than the 40mm and 44mm options of previous generations, and the casings have been refined with softer, more rounded edges. Like the Apple Watch Series 6, Series 7 models feature a black ceramic and sapphire crystal backing and a Digital Crown with haptic feedback. The Digital Crown has a built-in sensor for taking ECG readings.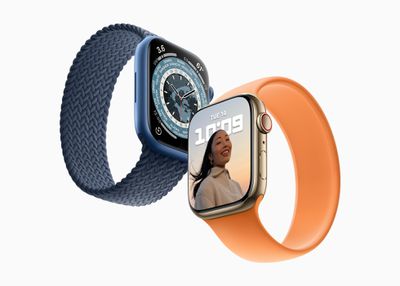 The new models feature a larger, re-engineered Retina display with more screen area due to slimmer borders. The display has a unique refractive edge that almost curves to the casing. There are interface improvements and two unique watch faces to take advantage of the larger displays. The Series 7 continues to feature the low power (LTPO) OLED Always-On display technology introduced with the Series 5, allowing users to see their watch face and complications at all times.
The Apple Watch Series 7 is more durable than previous models, with crack-resistant front glass, IP6X dust resistance, and a WR50 water resistance rating.
Apple Watch Series 7 models are also able to charge 33 percent faster, with just eight minutes of charging providing up to eight hours of sleep tracking time.
Design Apple Watch Series 7
The Apple Watch Series 7's design builds on the rounded, square look from previous generations, but now comes in new 41mm and 45mm casing size options to suit different preferences and wrist sizes. The design of the Apple Watch Series 7 has been refined with softer, more rounded edges. Although the casings are now slightly larger, they still work with bands from previous generations.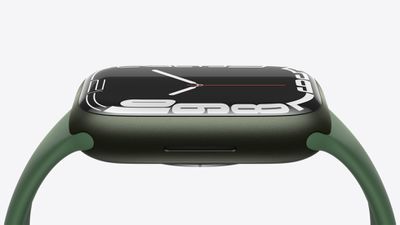 Weights range from 32 grams to 51.5 grams depending on both size and casing material, with the stainless steel Apple Watch models being the heaviest. This is a slight increase in weight over the previous generation. The Series 7 features the same 10.7mm thickness as the Series 6.
Durability Apple Watch Series 7
The Apple Watch Series 7 features a stronger, redesigned front crystal component with a more robust geometry. It is over 50 percent thicker than that of previous models and more resistant to cracking.
The aluminum Apple Watch models feature Ion-X glass to protect the display, while the stainless steel and titanium models use sapphire crystal glass. Sapphire crystal glass offers better scratch resistance than Ion-X glass because it is a harder material, which means the models with sapphire crystal models are more resistant to scratching and everyday wear.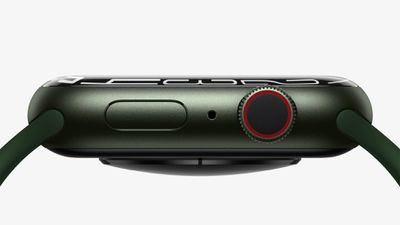 The device continues to feature WR50 water resistance, rated for immersion in water as deep as 50 meters thanks to seals and adhesives. The speaker, which needs air to produce sound, is the only point of ingress and has been designed to expel water using sound vibrations after exposure to moisture.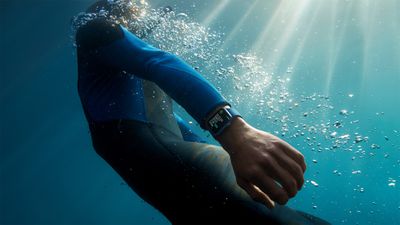 Because it is rated for 50m immersion, the Apple Watch can be used when swimming in the ocean or in a pool. It is only suited to shallow water activities, and can't be used for scuba diving, water skiing, showering, or other activities that involve high-velocity water or deep submersion.
that involve high-velocity water or deep submersion.
Apple's Apple Watch warranty does not cover water damage, so it is best to exercise caution when exposing the device to water.
Always-On Display
The Apple Watch Series 7's displays are larger, with almost 20 percent more screen area. This has been achieved by reducing the borders to just 1.7mm, which is 40 percent smaller than those on Apple Watch Series 6. The new display is contoured to bend slightly around the top edges of the glass.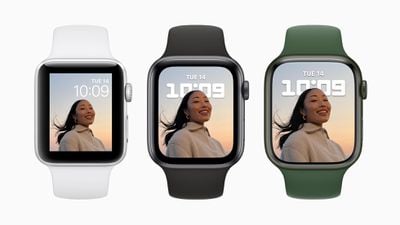 The Apple Watch Series 3's display (left) compared with the Series 6 (middle) and Series 7 (right).
Like the Apple Watch Series 5 and Series 6, the Apple Watch Series 7 features an OLED ultra low power temperature poly-silicon and oxide display (LTPO) to enable Always-On functionality, which allows the watch face, complications, and other information to be continually visible with the screen no longer going black when the Apple Watch is not in use.
The display dims when the wrist is down in order to preserve battery life, but key features like watch hands remain illuminated all the time. Touching the watch face or raising the wrist brings the display back to full brightness, and to minimize battery drain, Apple has optimized watch faces for the feature. The Apple Watch's display also has a variable refresh rate that drops from 60Hz to as low as 1Hz when the watch is inactive.
While the wearer's wrist is down, the Always-On Retina display is up to 70 percent brighter indoors than Apple Watch Series 6, making it easier to see the watch face without having to raise the wrist or wake the display.
ECGs with Apple Watch Series 7
Electrodes in the back of the Apple Watch and the Digital Crown work together to allow users to take single-lead electrocardiograms, just like in the Apple Watch Series 4. An ECG measures the electrical activity of the heart and can be used to diagnose health conditions by a doctor.
ECGs are captured by holding a finger on the Digital Crown of the Apple Watch and can detect a sinus rhythm (normal), an abnormal result, or, sometimes, an inconclusive result that should be shared with a doctor. The ECG is able to detect atrial fibrillation at heart rates above 100 beats per minute.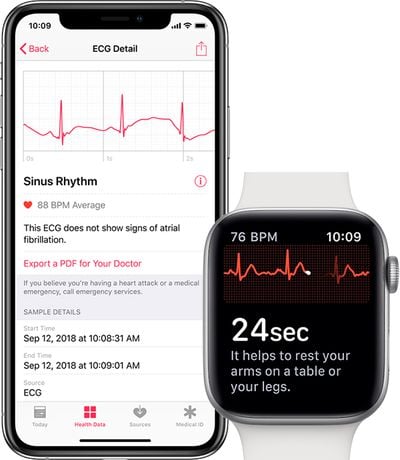 A single-lead ECG like the Apple Watch means there are two points of contact measuring the electrical sensations of your heart. Clinical electrocardiograms done by your doctor can have six to 12 leads for greater accuracy, but the Apple Watch offers the convenience of being able to take an ECG anytime anywhere in approximately 30 seconds.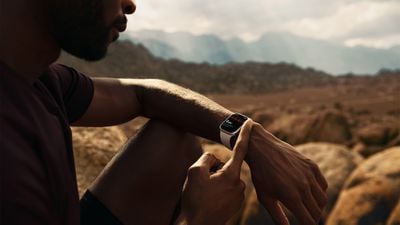 Because regulatory clearance is required for the ECG feature, it is limited to Apple Watch users in select countries, with a list available on Apple's Feature Availability website. Apple is continually bringing ECG functionality to new countries.
Nike and Hermes Models
The Nike Apple Watch was created in partnership with Nike and is designed specifically for runners. Nike Apple Watch models are all made from aluminum and are slightly expensive as the standard aluminum Apple Watches.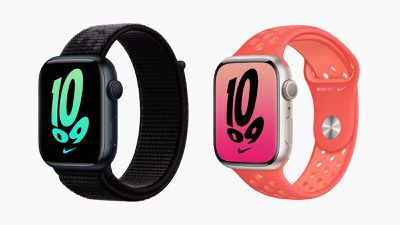 Nike has designed special software for the Apple Watch, which is designed to motivate runners to stay active. These sports Apple Watches include unique designed watch faces and are available in silver and black aluminum with matching perforated bands or Sport Loops in a selection of different exclusive colors.
With the Apple Watch Series 7, there is a refreshed Nike Sport Loop that comes in three color options and features the Nike Swoosh and logo text incorporated into the weave of the band, pairing smartly with the new Nike Bounce watch face, which dynamically animates with the tap of the screen, scroll of the Digital Crown, or move of the wrist.
The Hermès Apple Watch collection was created in partnership with French fashion house Hermès and features some of the most expensive Apple Watches Apple offers because of the high price of the bands.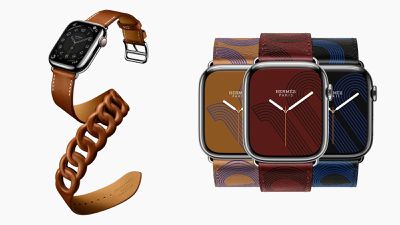 All Hermès models feature a silver or space black stainless steel Apple Watch body paired with one of the Hermès signature hand-crafted leather bands and an additional orange Hermès branded Apple Watch Sport band. Hermès Apple Watches include unique watch faces based on Hermès watch designs. With the Series 7, there are color updates across the Classic, Attelage, and Jumping styles, as well as two brand new Circuit H and Gourmette Double Tour styles.
Available Bands of Apple Watch Series 7
Apple has designed several types of bands for the Apple Watch, which it updates on a regular basis, debuting new band options during fall and spring media events, as well as other times throughout the year.
Apple offers an Apple Watch Studio feature that allows most bands to be paired with most Apple Watch casing options so specific Apple Watch band and casing pairings are no longer required when making a purchase.
Available bands include the Sport Band, Sport Loop, Milanese Loop, Modern Buckle, Leather Link, Solo Loop, and Braided Solo Loop.
Solo Loop
The Sport Loop is similar to the Sport Band, but it's the first Apple Watch to feature a slip-on design with no buckle or clasping mechanism. It's made from a stretchy liquid silicone rubber that can stretch to fit over the hand and then collapse to fit tightly on the wrist.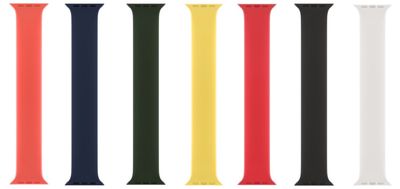 Apple says that it's ultra-comfortable because there are no overlapping parts, and it's simple to slip on and off. It's swim-proof, sweat-proof, and treated with UV for a silky finish. The Solo Loop is priced at $49, and unlike all of the other Apple Watch band designs, it comes in nine different sizes for each watch casing size.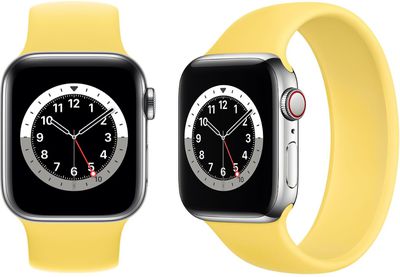 Apple offers a printable size guide so you can find the model that best fits your wrist, or you can use a measuring tape to check wrist size. You need to make sure to get a good measurement before ordering because of the multiple size options, so check out our guide for tips.
Some people have had fit issues with the Solo Loop and the Braided Solo Loop given the specific sizing requirements, which has prompted Apple to provide more tailored fit instructions. When measuring with the tool, there should be a snug but not too tight fit, and those in between sizes should size down. Apple also warns that the Solo Loop can stretch a bit over time because of the material that it is made of. Apple does allow returns of the band if you need a different size, but it's best to get a good fit to begin with.
Braided Solo Loop
Like the Solo Loop, the Braided Solo Loop is a new Apple Watch designed without a buckle or clasp of any kind. It's made from a stretchable recycled yarn interwoven with silicone threads so it can fit over the hand before wrapping around the wrist.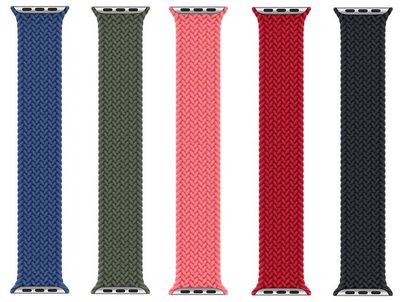 Apple says the soft, textured feel of the band is sweat and water-resistant, plus ultra-comfortable to wear. The Braided Solo Loop also comes in nine sizes for each Apple Watch casing size, so wrist measurements are required to order (or there are fitting options in Apple's retail stores).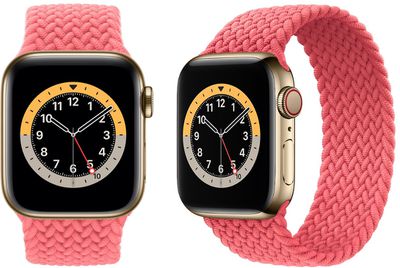 The Braided Solo Loop is one of Apple's more expensive band options at $99, and the same sizing caveats apply to the Braided Solo Loop.
Sport Band
Apple's Sport Bands are the company's lightest, most comfortable bands, made from a flexible and lightweight fluoroelastomer. Because they're ideal for use when exercising or engaging in vigorous activity, most of Apple's aluminum watches ship with Sport Bands.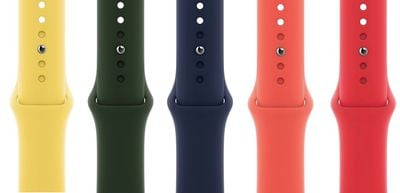 Pricing starts at $49 for the Sport Bands, which come with three pieces to adjust the size. Apple offers Sport Bands in S/M, M/L, and L/XL size options.
Milanese Loop
The stainless steel Milanese Loop, available in 41mm and 45mm sizes, is a flexible metal mesh band that wraps around the wrist. It's made of such a fine metal material that it's comfortable to wear all day long, and it's surprisingly lightweight.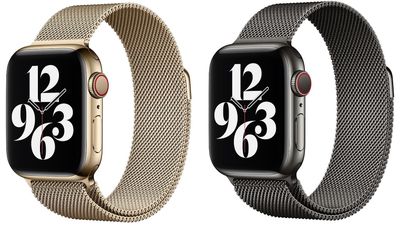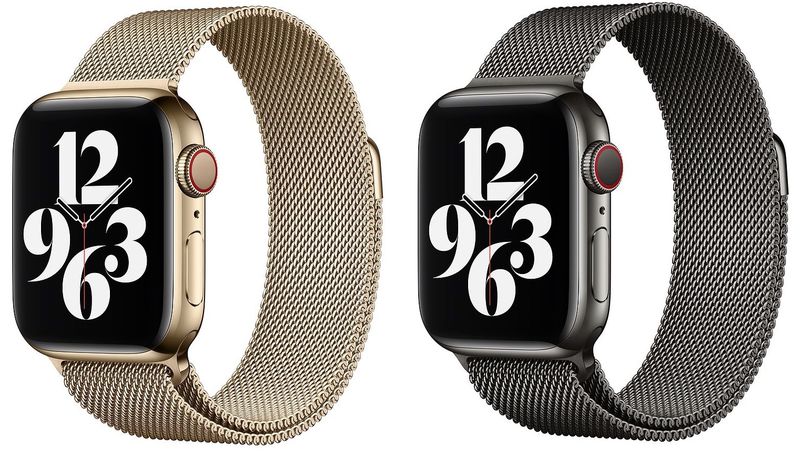 The Milanese Loop is priced at $99, and it comes in silver, gold, and space black.
Link Bracelet
The 316L stainless steel alloy Link Bracelet, available in 41mm and 45mm sizes, is Apple's most expensive band made in-house. Available in silver ($349) and space black ($449), the Link Bracelet resembles a high-quality traditional watch band.

The 41mm model fits wrists sized 135 to 195mm while the 45mm model fits wrists sized 140 to 205mm. A 6-link add-on kit expands its size from 205mm to 245mm for an additional $49.
Hermès
Along with Hermès Apple Watches, Apple sells a selection of standalone Hermès bands, designed by the fashion house. Hermès bands are available in an assortment of colors.

As these are bands created in partnership with a French fashion houses, prices are more expensive than Apple's own bands. Hermès bands start at $340 and go up from there.
Apple Watch SE and Series 3
Alongside the Apple Watch Series 7, Apple offers the Apple Watch SE, which is a low-cost option that offers many of the same features as the Series 7, but with a more affordable price tag. It is, however, lacking some key health functions in order to keep prices low.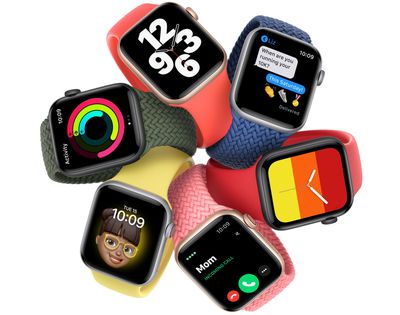 Compared to the Series 7, the Apple Watch SE lacks ECG and blood oxygen monitoring support and it is equipped with an older S5 chip instead of the faster S7 chip. It's also only available in aluminum, the cheapest and lightest of the Apple Watch casing materials.
Other than that, it has all of the same safety and health tracking functionality, and it is available in LTE and GPS only models. Pricing on the Apple Watch SE begins at $279, compared to $399 for the Series 7.
As an ultra low-cost option, Apple is continuing to sell the Apple Watch Series 3, priced starting at $199. The Series 3 has an older design with a smaller display, a much slower S3 chip, and no blood oxygen sensor or ECG function. It is GPS only and lacks a few other bells and whistles like always-on altimeter and compass that are found in the other Apple Watch models. The Series 3 is several years old at this point and is using outdated technology, so we do not recommend purchasing it.
watch OS 8
Apple Watch runs an operating system called watch OS, and the Apple Watch Series 7 comes with watch OS 8 installed. The watch OS 8 update introduces new features to help users stay healthy, active, and connected to friends and family, with most of the new additions serving as extensions of changes added in iOS 15.
There are several improvements to Wallet, including Ultra Wide band support for digital car keys, and new digital keys for unlocking doors at home, the office, and hotel rooms. All of these new key features work with the Apple Watch's tap to unlock feature. In some states, users will be able to add their driver's license or state ID to Wallet, and select TSA checkpoints will begin accepting digital IDs.
Home App
The Home app has been overhauled to make it easier to get to Home Kit accessories and scenes as needed, with status updates for thermostats, light bulbs, and other accessories. Home Kit devices can be controlled by room, and those with Home Kit enabled cameras can now see who is at the door right on the wrist. For Intercom users, there's a quick tap feature for getting in touch with everyone in the home.
Apple has added two new workout types with Tai Chi and Pilates, which can be selected when choosing a Workout on the Apple Watch. For Apple Fitness+ users, there's Picture in Picture support, filter options, and options to stop and resume an in-progress workout on any device.
Mindfulness app
The Breathe app is now the Mindfulness app and it has been enhanced with a new Breathe experience and a Reflect session for mindful intention. Reflect gives users a thoughtful notion to consider that invites a positive frame of mind. The Breathe and Reflect experiences offer new animations and a series of tips on meditation.
When sleeping, the Apple Watch now measures respiratory rate (the number of breaths per minute) in addition to time asleep, heart rate, and blood oxygen. Respiratory data can be viewed in the Health app and is a metric that can be used to track overall wellness.
weather app
There's a new Portrait Watch Face that pulls portrait photos from the iPhone and uses the depth data to overlay the time with the faces of your favorite people, and the Photos app has been redesigned with new ways to view and navigate collections. Memories and Featured Photos sync to Apple Watch and can be shared right from the wrist.
Apple added a dedicated Find Items app for locating your lost devices, and the Music app has been redesigned to let users share songs, albums, and playlists. The Apple Watch weather app supports Severe Weather notifications, next hour precipitation alerts, and updated complications.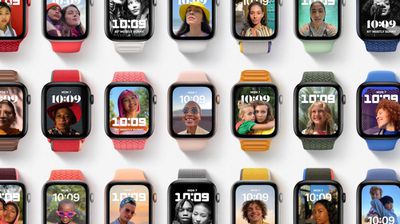 Messages app
In the Messages app, Scribble, dictation, and emojis can be combined within the same message, and there's a new option to edit dictated text. The Apple Watch supports sending GIF s in Messages with watch OS 8, and there's now a Contacts app to make it easier to get in touch with people when an iPhone isn't available.
The Focus feature added to iOS 15 also syncs to the Apple Watch so you can reduce distraction and be in the moment to focus on the task at hand. Apple also suggests Focus modes, so if you're working out, you'll be prompted to choose the Focus for fitness option.
watch OS 8
watch OS 8 introduces support for multiple timers at once, and more apps support the Always-On display. This include Maps, Mindfulness, Now Playing, Phone, Podcasts, Stopwatch, Timers, and Voice Memos. Third-party developers can create Always-On display experiences for their apps.
Apple has add an Assistive Touch feature that uses the built-in sensors in the Apple Watch to detect hand gestures for control purposes.
There are many more new features included in watch OS 8, so make sure to check out our full watch OS 8 roundup for more details.