Aroma Black XXS 55
Aroma Black XXS 55 Ml By Surrati is best for your personality. This premium perfume you feel like you are in heaven. This premium product contains Turkish roses and jasmine with other bloom flowers and many other natural ingredients. Buy this from the werunshop website to give yourself a perfect smell. Aroma Black XXS apparel is the king in the perfume category, and only the king, the human, will get a chance to buy this.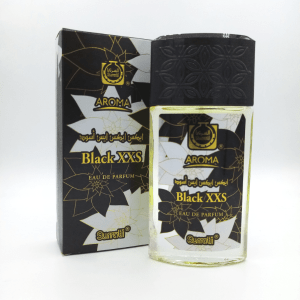 Moreover, Aroma Black XXS will attract everyone around you. This high-quality incense will give your personality a long sensational aroma. Furthermore, discover the delicate scents of this Aroma Black XXS, and to get this feeling, just click and buy from our werunshop site. Lastly, our site will help you get your attitude back by giving you a perfect smell. We deal exclusively with 100% Authentic items, sourced directly from brand owners or certified distributors.
Furthermore, The perfume brand Aroma Black XXShas achieved many positive results due to its positive work in making you, boss. This 2022 perfume works all season; no matter is hot or cold outside. Moreover, a brand-new Aroma Black XXS With Deo comes with the best and most attractive packing. This genuine product is superior to all perfumes and only deserved people will get this.
In addition, this perfume contains a wide range of scents and several ingredients. This perfume helps you to attract clients and to please the boss. You can buy this genuine product right and its packaging contain a code and a legit website link which you can check. Now it is possible to get this all feeling in just one click from our website.
Moreover, aroma Black XXS 55 Ml By Surrati. Packaging may vary. It is not uncommon for a brand to update packaging. These changes are normal and occur often.  This is an authentic product backed by its original manufacturer Aroma Black Surrati Perfume in Pakistan. When it comes to our customers' satisfaction, we have one rule: settle for nothing but the best. That's why we work only with premium quality products and suppliers, that are guaranteed to deliver to our high expectations.
Aroma Black XXS 55 2022 premium
A good fragrance has perpetually been a vital part of an individual's life. Shopforeverpk presents you with a superb range of exemplary concentrated perfumes and Attars. Natural haramin's vision lies in providing customers with only halal attars.
In addition, Aroma Black XXS 55 Ml By Surrati has the most luxurious packaging. It's a perfect bottle that will explain your personality to others. Lastly, This product from the original brand falls into the perfume category and is the best product. The box contains a code and tag of originality, and everyone can check whether this product is legit or not. This lattafa perfume works all season, whether hot or cold outside.
For More Info ContactUS On Facebook Page…!