Lattafa Ameer Aloud Perfume
Lattafa  Ameer Aloud Perfume By DE-100ML is a unisex scent that contains the most delicate components that delight your inner beast. Ameer Aloud 2022 by Lattafa includes top oud notes. The smell is vanilla and sugar, like a freshly baked pie leftover by the side of the window.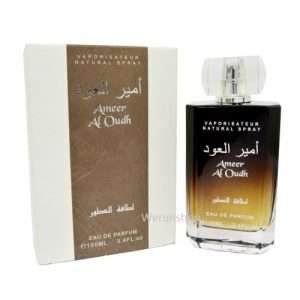 Must Watch Other Product: Ajmal Raindrops Perfume For Women – 50 Ml EDP
Furthermore, the perfume brand Lattafa made a noble fragrance with a composition of Turkey Roses, Indian Rose, Gaiac Wood, Oud, Sandalwood, White Flower, and Amber. Do not be hesitant to get this perfume's crown treasure straight now.
Buy Lattafa Perfume Ameer Aloud
Furthermore, the brand  is an essential creation inspired by the term "verve" which stands for passion and energy. Each perfume from Lattafa depicts the same energy and vaguer. Moreover, there is many trait and characteristics which connects and individual to a specific aroma. Such and aroma becomes an incredible driving substance of energy. This perfume takes pleasure in facilitating people of every kind and preferences.
Moreover, it has to be the creation form LATTAFA when it's all about renewed energy with each perfume and aroma, time and again. There is lattafa creation when it comes to renewed vigour with each perfume and aroma, time after time.